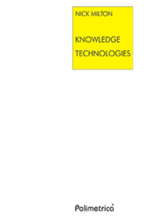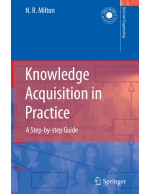 Recent years have seen an upsurge of interest in knowledge. Leading organisations now recognise the importance of identifying what they know, sharing what they know and using what they know for maximum benefit. Many organisations employ knowledge engineers to capture knowledge from experts using the principles and techniques of knowledge engineering. The emphasis is on a structured approach built on a sound understanding of the psychology of expertise and making use of knowledge modelling methods and the latest web technologies.
Knowledge Acquisition in Practice is the first book to provide a detailed step-by-step guide to the methods and practical aspects of acquiring, modelling, storing and sharing knowledge. The reader is led through 47 steps from the inception of a project to its successful conclusion. Each step is described in terms of the reasons for the step, the required resources, the activities to be undertaken, and the solutions to common problems. In addition, each step has a checklist which lists the key items that should be achieved during the step.
Knowledge Acquisition in Practice will be of value to knowledge engineers, knowledge workers, knowledge officers and ontological engineers. The book will also be of interest to students and researchers of AI, computer science and business studies.
Several technologies are emerging that provide new ways to capture, store, present and use knowledge. This book is the first to provide a comprehensive introduction to five of the most important of these technologies:
Knowledge Engineering, Knowledge Based Engineering, Knowledge Webs, Ontologies and Semantic Webs.
For each of these, answers are given to a number of key questions (What is it? How does it operate? How is a system developed? What can it be used for? What tools are available? What are the main issues?).
The book is aimed at students, researchers and practitioners interested in Knowledge Management, Artificial Intelligence, Design Engineering and Web Technologies.
"They [the two books] are both very readable and very informative."
Engineering Manager, USA
"They are excellent as you manage to explain a complex subject with great clarity."
Editor of IT Magazine, UK
"I believe that it will be very useful for the students."
Professor, Egypt
Information
Knowledge Technologies
Paperback: 138 pages
Publisher: Polimetrica, International Scientific Publisher (March 3, 2008)
Language: English
ISBN-10: 8876990992
ISBN-13: 978-8876990991
Hard copies are available from Polimetrica and most good bookshops.
A FREE softcopy of the book is available at the E-LIS and arXiv repositories.
Information
Knowledge Acquisition in Practice
Hardcover: 176 pages
Language: English
Publisher: Springer; 1 edition (July 12, 2007)
ISBN-10: 1846288606
ISBN-13: 978-1846288609
Hard copies are available from most good bookshops.


KNOWLEDGE PRACTITIONERS' REFERENCE BOOKS
For those who want to find out more about Knowledge Technologies or the steps involved in capturing, structuring and publishing knowledge, here are two recently published books written by Dr Nick Milton, Chief Knowledge Architect at Tacit Connexions.
During the 1990s, Nick worked at the University of Nottingham on the application of AI techniques to knowledge management and on various knowledge acquisition projects to develop expert systems for military applications. In 1999, he joined Epistemics where he worked on numerous knowledge projects and helped establish knowledge management programmes at large organisations in the engineering, technology and legal sectors.
He is author of the book "Knowledge Acquisition in Practice", which describes a step-by-step procedure for acquiring and implementing expertise. He maintains strong links with leading research organisations working on knowledge technologies, such as knowledge-based engineering, ontologies and semantic technologies.