Need new ways to add value that will delight your customers?
Contact us today and take the right first steps!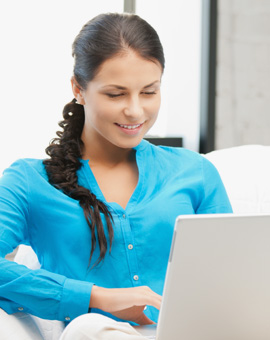 In response to growing demand, we've introduced three workshop/seminars to assist new adopters of AI and Semantics in taking the right first steps...

1. Want to learn how to source and prepare data, information and 'know-how' for AI applications?

Data Audit: AI Readiness Workshop/Seminars examine the sources of structured data, text and video/audio you will need for your intended AI applications, including the essential specialist 'know-how' that needs to be captured in the AI configuration that's particular to your organisation. Outputs include a Data Normalisation Plan, a Knowledge Capture Plan and new skills and resources your organisation will need to successfully configure and operate its AI applications.


2. Need help identifying how these smart technologies would enable you to find new ways of engaging with your external and internal customers and adding value that will delight them?

Business Analysis Workshop/Seminars examine the functions your organisation carries out and quickly identify a prioritised list of which AI-powered applications you should consider first. Outputs include an outline business case and indicative costing.


3. Already chosen how you want to engage and add value with AI-powered applications, and need to map out user scenarios, storyboards and project plan?

Pre-Definition Workshop/Seminars help identify and record user tasks and interactions with the system, functions the system needs to perform, and what needs to be displayed to users. Documentation includes descriptive user scenarios or use cases, graphically illustrated storyboards, and a high-level project plan that sets out timescales for proof-of-concept development and release of subsequent phases.
Take the right first steps - contact us today
FREE - NEW White Paper
"AI is driving business-critical decision making"
Machine Learning (ML) continues to feature prominently in business publications and the general press, usually under the broad banner of Artificial Intelligence (AI).
Many executives have attended conferences, seminars and training courses on the subject, and receive a continual stream of ML-based promotional material. As a result they have a good understanding of the potential benefits that ML might bring to their organisation. Their expectation is that ML is coming their way and that it will form an essential part of their future operations.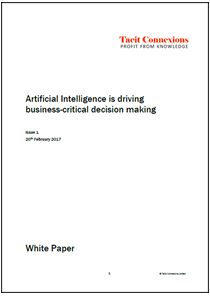 Our new White Paper looks at how organisations can lower costs, grow revenue and delight customers by getting the best out of AI. It sets out the key issues you face in setting up a Machine Learning solution, and how an Intelligent Expert System (IES) will speed the availability of essential quantitative and qualitative training data, and independently-sourced validation and testing datasets for a Machine Learning solution.
In doing so, the paper highlights the advantage over other solutions that the combination of IES and ML has of offering two sources of knowledge and expertise - two systems coming from different directions altogether, but attacking the same problem and producing a far better quality decision.
To ensure the success of those organisations contemplating the adoption of AI, we strongly recommend that the right first steps begin with a selection of workshop/seminars that deal with Data and Organisational Audit, Business Analysis and Project Pre-definition.
Take the right first steps - get a copy today
Meeting the new digital imperative - integrating AI and Knowledge Systems to mobilise expertise, information and data
Our specialist software tools and techniques provide for richer and more intelligent uses of Information Technology:
* Supporting complex, collaborative processes that include the capture of rationale, improved decision making and the sharing and application of lessons learned
* Transforming information search and retrieval using contextual information
* Preserving and mobilising the experience, understanding, insight and learning of your experts
Smart Wikis™


Speed the completion of complex individual or collaborative tasks — and at the same time drive up the re-use of existing information and the return on current IT investments

Smart Wikis™ provide integrated collaborative working environments that anticipate each user's personal information needs and surround that user with seamless and non-obtrusive forms of assistance.
They're a kind of Expert System that combines Artificial Intelligence and knowledge concepts with your existing IT and supports all types of desktop and mobile devices.

Read more
Intelligent Decision Support

Even the most experienced decision maker can benefit from the recommendations of an expert system

What to do when 'xxx' happens?... What's the best plan?... Is my decision correct?... Intelligent Decision Support systems are continuously updated with the latest, most accurate and complete information and generate expert recommended responses in real time to these and other complex questions. In high-risk, pressurised environments, the system reduces operator stress levels by performing vital tasks when extra support is needed.

Read more